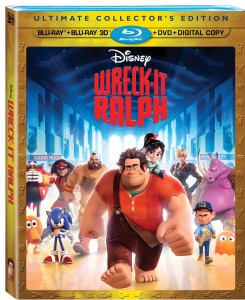 If you're a parent your probably remember the old 8-bit video games.  The movie Wreck-it Ralph will definitely refresh your memory and have you reminiscing about old times. The Disney original, Wreck-it Ralph, will be debuting on DVD & Blu-ray 3D on March 5th, 2013. Parents will be taken back in time to reminisce about the old style arcade games of their youth while the little ones enjoy the story about Wreck-it-Ralph, a video game "bad guy" who's tired of playing second fiddle to the game's hero, Fix-it Felix. Set inside a present day video game arcade, Wreck-it-Ralph is a classic that has withstood the test of time. Ralph however is tired of being the bad guy day after day. He has a big heart and feels he deserves some credit. He wants to prove that he can be a hero too. His journey takes him inside several different video games within the arcade. Will Ralph break the mold to let his true self shine through?
Wreck-it Ralph features over an hour of all-new bonus material including deleted and alternate scenes, the theatrical short "Paperman," and more. The 4 disc combo pack retails for around $50.
My kids, especially our oldest who is a video game nut, loved this movie.  They've watched it three time already!  If you're a Glee fan you'll especially enjoy one of the characters who's voice and resemblance is Jane Lynch (Sue Sylvester).
Turn your world into a classic arcade game this weekend with these fun 8-Bit projects! Use the printable stencils to jazz up everything from clothes to book covers! Then break out the scissors for a Pixilated Paper Craft and a Picture Puzzler featuring all of your favorite characters!
A complimentary product/service was provided for this review, however, all opinions expressed are my own.  I was not compensated in any other way.  See Mommies With Cents disclosure policy for more details.
Powered by

Sidelines