The past few months our family has been thinking about moving.  We've been dreaming about having our very own pool in the backyard and what that would be like.  Not only would it be a great place for our kids to play and the family to cool off on hot days but a great space to workout in ways that are gentler to the body than traditional workouts.  I recently came across this article by  Pool Troopers and have permission to share it here with you!  Keep reading after the article because I also have a great pool product from SwimWays to share with you along with a chance to WIN!
5 Easy-Peasy Pool Exercises to Kick Off Your Summer Workouts
You already know that a swimming pool can be a beautiful and relaxing retreat, but maybe you don't know that a pool offers one of the best workouts available. That's because water is denser than air, so you're doing a resistance workout, which burns fat and increases metabolism.
And, because water neutralizes gravity, you can swim almost every day without having to worry about injuries!
If you want to use your swimming pool to get a workout, here are some excellent workouts designed for beginners.
1. Leg Lifts
Thanks to the resistance of the water, leg lifts work all of the leg muscles. Stand in the water and lift one leg up to the side, and then back down. Repeat the exercise until your leg feels tired, then do the exercise on the other leg. Not only does this work your legs, but it also strengthens your core and improves balance.
2. Standing Water Push-ups
Water push-ups are a great exercise to build chest, arm and shoulder strength without putting too much pressure on the joints. Stand beside the edge of the pool and put your hands a little wider than shoulder-width apart from each other on the side of the pool. Bend your arms and move toward the wall, then push yourself back. Repeat the exercise slowly until your arms get tired. Try not to push beyond your limits.
3. Water bicycle
With your back to the wall, place your elbows on the side of the pool and "pedal" an imaginary bicycle with your legs. This not only burns fat but also strengthens your core, legs and shoulders.
If simply doing the bicycle is too easy for you, you can make it more difficult by sitting on a noodle while "cycling" through the pool. Your abs will work harder so you can keep your balance, and your legs will work even harder in order to move across the pool.
4. Jumping jacks
Jumping jacks work both your upper and lower body muscles. You can also add resistance with arm and leg weights.
Stand in water up to your chest. Put your feet together and your arms at your side.
Jump and push your legs outward and, at the same time, move your arms over your head.
Jump again to return to the first position. Do one to three sets of eight to 12 repetitions of water jumping jacks.
5. One-Legged Balance
This exercise strengthens your core and leg muscles, which are responsible for balance, but without the risk of falling! Your core has to work to keep you upright, which increases your static balance.
Standing in waist-high pool water, lift your left knee and put the center of a noodle under your left foot (the two ends should float upward). With your hands by your side, balance with your foot resting on the pool noodle for one minute. Then push your knee out to the side and balance for one more minute. Switch legs and repeat.
If you have some concerns about the condition of your pool or want to begin service, give Pool Troopers a call to schedule an appointment. When it comes to pool maintenance and repair, we've got your back.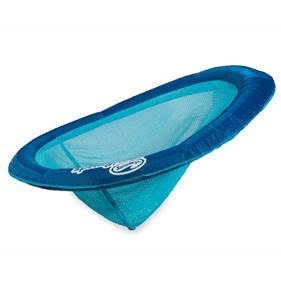 When you are finished with your workout, it's time to play or relax, your choice!  SwimWays has some fantastic products for kids and adults to help you do just that.  I've got my eye on their Spring Float Papasan, a fabric-covered floating pool chair.  It has a patented inner spring for comfort and stability in the water.  The soft cooling mesh seat allows you to sit with your body suspended just below the surface of the water and the inflatable ring keeps you floating upright.
One thing I really love about the Spring Float Papasan is that the spring around the outside edge of the float helps fold the float flat into three compact circles.  This not only makes it super easy to store when not in use but also makes it conveniently portable!  Even if we don't end up getting our own pool, we can bring this float with us on trips because it will fit right into our luggage!  You can find the SwimWays Spring Float Papasan at Walmart, Target and Amazon.
In addition to pool floats, SwimWays also makes some great pool toys like these Learn to Swim Dive Sticks.  I think my kids would really love these!  They were made for kids that are learning to swim.  The characterized dive sticks can be adjusted to float for beginners or sink for those with more advanced skills.  They come in a 2 pack and are available at Academy and Amazon.
You can find out more about these products and other SwimWays products at www.swimways.com.
Complimentary product was provided for this review, however, all opinions expressed are my own.  I was not compensated in any other way.  See Mommies With Cents disclosure policy for more details.
Feeling lucky?  Enter to win a SwimWays Papasan Pool Float by filling out the form below.  Also, be sure to check out all of our other giveaways. NOTE: If you don't leave your address, I won't have a way to get your prize to you. If you need more guidance filling out this form, you can watch this video on how to enter Rafflecopter giveaways.
This giveaway is open until June 24, 2020 at 12:01 am EST to U.S residents