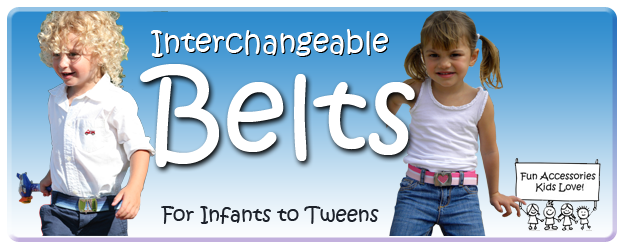 I love shopping for clothes for my kids.  I don't think I ever go into a store without at least browsing through the children's section.  I hate buying pants though.  Children vary so widely in sizes that it can be really difficult to find something that fits right.  The pants might be the perfect length but then be too big around the middle.  I've discovered an accessory that helps solve that problem:  Bottoms Up 4 Kids.  These adjustable belts are not only adorable, they're very functional!  Bottoms Up Belts come in a large variety of colors and patterns of both the strap and the buckle.  The buckles and straps are interchangeable making them quite versatile.  Available in sizes 1 year through 14 years, Bottoms Up Belts help prevent pants or shorts from sagging or slipping down where they don't belong.
Straps are available in solids, stripes, metallic and prints while the buckles come in block letters, engraved fonts, glitter, novelty monograms, rhinestone hearts and shapes & designs.  As you can see, there's a Bottoms Up belt for just about any outfit!
We selected the blue glitter belt with silver rhinestone heart buckle.  That's my daughter in the picture above.  She loves the belt, and so do I!  It's really easy to buckle and adjust and it keeps her pants where they should be.  Plus, I think it looks adorable.  Bottoms Up belts are affordable with prices starting at $15.  My favorite thing about Bottoms Up belts is that they are interchangeable.  It's fun to mix and match to get the look you want. These belts aren't just for girls either.  There's a wide selection of boys styles available too, like camo and skull & cross bones.  My son would go crazy over the skull one!
How do you deal with sizing issues on pants?  I can't be the only mom out there that has trouble finding pants that fit right.  I've found my solution- Bottoms Up Belts!
We are giving away one Bottoms Up 4 Kids belt (strap + buckle) plus two additional straps to one lucky winner.  Enter the giveaway by filling out the form below. Please "like" Bottoms Up 4 Kids on Facebook for more information and to gain an extra entry into this giveaway.  Also, be sure to check out all of our other giveaways.
This giveaway is open until July 17, 2011 at 11:59 pm CST to U.S residents.
Please leave your name, address, email and answers to the questions (if any) in the form below. This is required for initial entry. Extra entries are optional. For more information on how to enter our giveaways, please see our contest guidelines page. There you'll find options for extra entries, rules, etc.
Your information is confidential and used for contacting the winner and prize fulfillment purposes only.
A complimentary product/service was provided for this review, however, all opinions expressed are our own.  We were not compensated in any other way.  See Mommies With Cents disclosure policy for more details.