My favorite treat is a iced or blended coffee but I hate paying over $5 at the coffee shop.  I recently discovered I could easily make my favorite Caramel Frappuccino at home using Victor Allen's Caramel Macchiato K-cups.  I couldn't believe how close the flavor came to the real thing!
Victor Allen Caramel Macchiato coffee is a medium roast blend made with 100% Arabica beans and designed for use in all compatible single serve brewing systems.  Since 1979 Victor Allen's Coffee has sourced their own premium coffee from the best quality growers in the word.  You can enjoy the rich buttery caramel and smooth vanilla cream flavor hot like you normally would or since it's summer you might want to take a few extra steps and enjoy it iced or blended.
You can get this flavor in a box of 42 or 80 count or get a coffee subscription to keep it coming for 20% off.  Trust me, you're going to want to stock up because this flavor is to die for!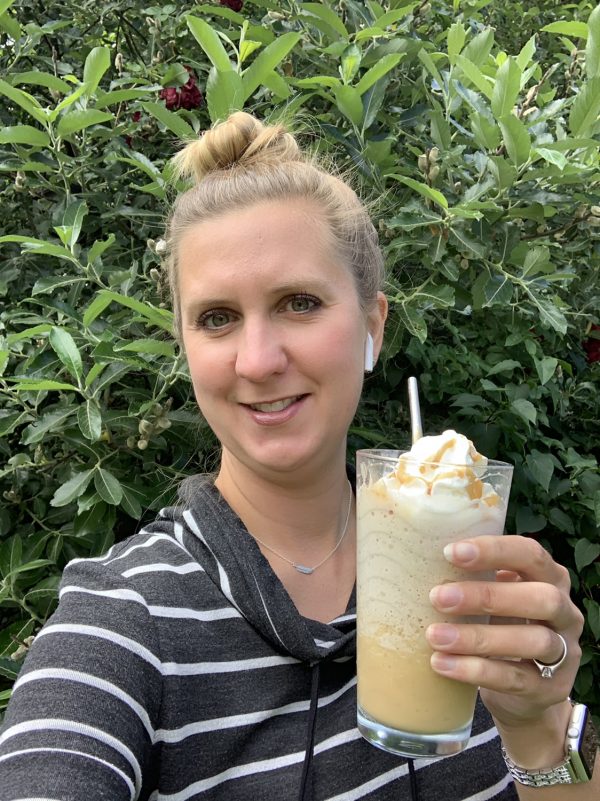 I sometimes enjoy an afternoon pick me up so I brewed a cup in the morning and refrigerated it.  Later I added some ice and vanilla creamer and blended it in my Ninja blender.  I topped it with whipped cream and a drizzle of caramel sauce.  It really hit the spot!
Here's some more info about Victor Allen Caramel Macchiato Coffee from their website:
What is Caramel Macchiato Coffee?
Caramel Macchiato coffee is a flavored coffee crafted after the celebrated Italian specialty drink.
In Italian, "macchiato" means "marked." The purest form of the classic drink is a simple shot of espresso, "marked" with a dash of foam. The addition of caramel into the mix is what transformed the beverage into the velvety rich, luscious variation that has become a coffee house staple.
Victor Allen's Caramel Macchiato for K-Cup Keurig 2.0 Brewers allow you to capture that specialty coffee house taste from the comfort of your kitchen.  The taste of silky caramel, frothy cream, and hints of vanilla combine to create this supremely smooth sipper, guaranteed to awaken the taste buds and shake off the early morning grog.
How is Caramel Macchiato Coffee Made?
Typical of all flavored coffees, there's no set guidelines on how individual roasters make their caramel macchiato coffee. What varietal of beans are used, the level of roast, and the flavor formula are all unique to the roaster.
At Victor Allen's, we use 100% Arabica beans—it's kind of our thing. We know top-quality flavored coffee has to start with top-quality beans, so we don't mess around. It's that simple.
We roast our beans to a rich chestnut hue to impart a balanced bean-to-roast flavor ratio. From there, we introduce the sweet, buttery caramel macchiato flavoring. The delectable blend marries the toasty beans and sinks in deep to capture the essence of the specialty drink.
What Does Caramel Macchiato Coffee Taste Like?
Caramel Macchiato coffee is a full-flavor, medium roast brew with a soft, silky caramel flavor. This mellow-bodied brew is rich but not thick, offering a lush, creamy mouthfeel with zero trace of artificial aftertaste.
With this blend, we really wanted to weave in the intricacies of the hand-crafted coffee shop caramel macchiato. The spirit of the drink is concentrated into our carefully formulated caramel macchiato flavor boost. Notes are entwined and enhanced upon brewing, as flavors meld to faithfully reproduce the classic experience of a caramel macchiato.
The slightly muted brightness of our mid-roast beans is a perfect base for the ornate profile of our proprietary flavor blend. Syrupy swirls of caramel saunter in and mingle with subtle vanilla undercurrents to form the coziest of concoctions, sweet and smooth with a gentle bite.
Victor Allen was founded in 1979 in Madison, Wisconsin.  They offer a huge selection of the finest premium coffee that is expertly roasted and packaged. Victor Allen's coffees are GMO free and gluten-free.  They do not contain any allergens and their single serve cups are BPA free.  Victor Allen's offers free shipping on every order! You can find out more and place your order at www.victorallen.com.  I highly recommend them!