**This post is sponsored by Entenmann's**

My kids have been out on holiday break for a few days now.  It's amazing how much they seem to eat when they are at home vs. at school!  It seems like they are always hungry for a snack.  I've been trying to keep the pantry stocked with lots of options from healthy to "treat-worthy". Entenmann's Little Bites are a great snack option with no high fructose corn syrup and zero grams of trans fat per serving.  The individual pouches make them great for on-the-go and help with appropriate portion sizes.
Even though we are technically on a break, at least from school, my kids schedules are still filled with sports camps and practices amongst other outings.  We are definitely staying busy!  We love that Little Bites offers a variety of flavors including blueberry and chocolate chip made with real ingredients.  We even found a special seasonal flavor — Sugar Cookie!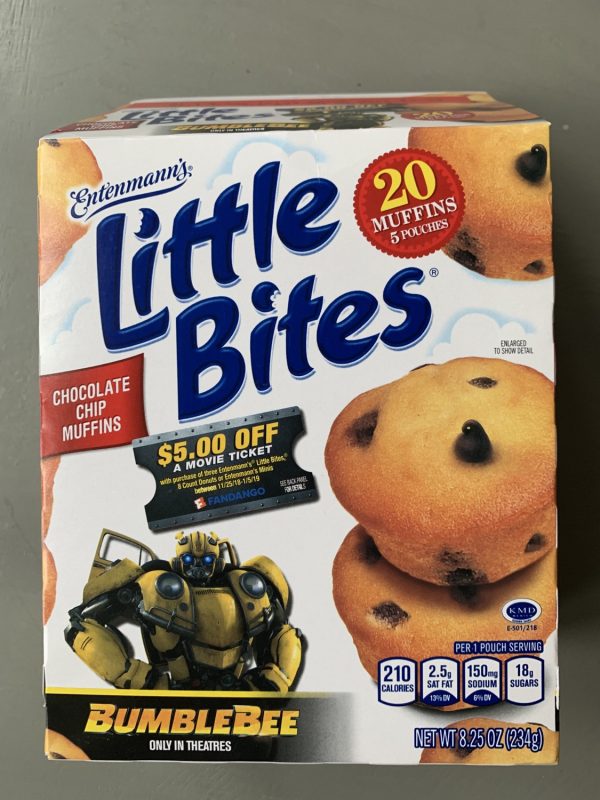 Little Bites are one of my kid's favorite snacks but this mom loves them even more when a special deal is involved. In a partnership with BUMBLEBEE, Entenmann's® is launching a fun offer to celebrate the theatrical release. From now through January 5, 2019, with the purchase of three Entenmann's® Little Bites® muffins, eight count donuts or Entenmann's® Minis, fans will receive $5.00 off a movie ticket to see the film.  We can't wait to see the movie — I'm thrilled to be able to save a little on the tickets while enjoying these yummy snacks!
Entenmann's also makes a variety of delicious, cake style donuts such as Rich Chocolate Frosted, Crumb and Powdered donuts which also qualify towards the promo. Bumblebee is in theaters starting December 21.  Here's a short synopsis on the movie:
On the run in the year 1987, Bumblebee finds refuge in a junkyard in a small Californian beach town. Charlie (Hailee Steinfeld), on the cusp of turning 18 and trying to find her place in the world, discovers Bumblebee, battle-scarred and broken.  When Charlie revives him, she quickly learns this is no ordinary, yellow VW bug.
For more information about the promotion and to access fun (and free!) Bumblebee activities, please visit www.littlebites.com/bumble-bee.
Discover more about Entenmann's via their website and social channels:
Feeling lucky? Entenmann's® Little Bites® is providing a $25 virtual Visa gift card, (3) coupons for $5.00 off the purchase of any Entenmann's® Little Bites® (each of which should cover for a free box of Entenmann's® Little Bites®) for one lucky winner.
The coupons for product redemption, information, and gift card have been provided by Entenmann's® Little Bites® so that I could try the product and share my thoughts and information about Entenmann's® Little Bites®. The opinions expressed in this post are my own and do not reflect the opinions of Entenmann's® Little Bites®. See Mommies With Cents disclosure policy for more details.
Enter to win the Entenmann's Prize Pack by filling out the form below. Also, be sure to check out all of our other giveaways. NOTE: If you don't leave your address, I won't have a way to get your prize to you. If you need more guidance filling out this form, you can watch this video on how to enter Rafflecopter giveaways.
This giveaway is open until December 27, 2018 at 12:01 am EST to U.S residents.