I had never heard of the brand L'Bri until I was introduced to it recently and was instantly intrigued.  I'm pretty picky about my skincare products but the fact that all of L'Bri's products are aloe based and toxin-free grabbed my attention.  Of course I was drawn to the cosmetics but also found some other products to test out and have been pleased with all of them!  First, let's take a look at the cosmetics. Here's my before and after shot:
I started with these two products:
I used the concealer under my eyes and on blemishes.  It blends amazingly well and covers great!  Normally I have a hard time finding foundation that's a good match for my skin, especially online!  So you can imagine my surprise when I tried the color I picked and it was a great match.  I love that the foundation comes in a pump bottle to keep the product from becoming contaminated.  The formula is very lightweight making it feel like I'm not wearing any makeup at all!
The only product I used for this look that wasn't L'Bri was a mineral finishing powder that I used to set my foundation.  Next, I used Believable Finish Blush in Honey Plum.  This product has really good pigmentation so a little goes a long way.  I love this color because it gives my cheeks a sun-kissed look.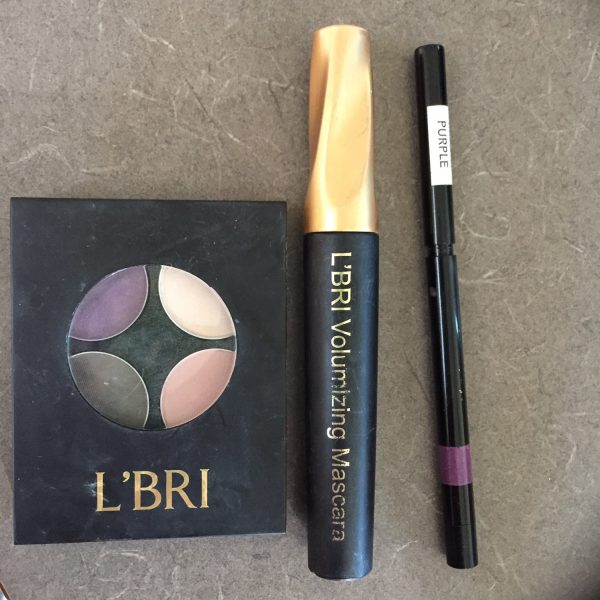 Purple is a color I love to use to bring out my green eyes.  I was so excited to see these products made just for that reason!  Here are the items I used on my eyes:
The eyeliner is super easy to use and with it's narrow tip you can get pretty precise with it. I used it on my upper AND lower lash line.  I used the light pink color from the eye shadow palette on my entire lid with the grey color in the crease.  I smudged out my upper eyeliner with the purple color eyeshadow and used the lightest color on my brow bone all the way up to my eyebrow. 
The mascara is a beautiful yet subtle purple color.  It lengthens my lashes with ease.  I haven't had any problems with it flaking during the day however when I wash my face at night it does tend to come off in flakes and I have to take extra care to make sure the particles are removed from my face.
Last but not least I finished up with my lips using these products:
The lipsticks go on smoothly with lots of color.  For summer I like to go over my lipstick with a gloss.  These glosses are amazing — super lightweight and not sticky at all!  They come in lots of pretty colors.  For this look I went with the more purple based colors on the right (Amaretto & Berry Ice) rather than the more pink ones on the left (Cranberry Freeze & Wisteria). The lipgloss has a frosted look which is fun while the lipsticks are more classic.
I am loving all of these cosmetics as well as some other beauty products like these:
Aloe Nourishing Shampoo & Conditioner — I love the way the shampoo lathers and the way these products leave my hair super soft.  The
The SuperAloe Multi Function Pain Relief Cream is great for: Arthritis Pain, Shoulder Pain, Muscle Sprains, Back Aches, Hip Pain, Tendonitis, Knee Pain, Neck Pain, and Bruises.  I tried it on my shoulders and back and was surprised by how powerful this stuff is!  The active ingredients are: Methyl Salicylate (10%), Menthol (3%), Lidocaine Hydrochloride (1%), Capsaicin (0.025%).
I keep the Daily Moisturizing Hand And Body Lotion in my kitchen by the sink so I can moisturize my hands after doing the dishes.  I often rub the extra onto my arms or legs.  It absorbs quickly without leaving a greasy feeling.  For extra moisturizing I use the Intense Body Butter when I get out of the shower.  It really helps when my legs get dry and flaky. L'BRI body butter is formulated with aloe, mango seed butter, grape seed extract, and Shea butter along with Japanese green tea, cocoa seed butter, evening primrose oil, and vitamins A, E and C. All ingredients I approve of for my skincare routine!
As you can see, L'Bri was very generous with their products and I was able to test out many products, all of which I was quite satisfied with!  You can find out more about their products and even order free samples at https://shop.bydesign.com/Lbri/#/shop/from/400560.
Complimentary products were provided for this review, however, all opinions expressed are my own.  I was not compensated in any other way.  See Mommies With Cents disclosure policy for more details.
Feeling lucky?  Enter to win a L'Bri Ultimate Moisture Body Collection set by filling out the form below. Also, be sure to check out all of our other giveaways. NOTE: If you don't leave your address, I won't have a way to get your prize to you. If you need more guidance filling out this form, you can watch this video on how to enter Rafflecopter giveaways.
This giveaway is open until July 25, 2017 at 12:01 am EST to U.S residents.
Your information is confidential and used for contacting the winner and prize fulfillment purposes only.