Jeffrey Strain was inspired by a penny he found on the sidewalk on November 24th, 2009. He pondered the questions "What is a penny really worth? What can one achieve when starting with only a penny?" He decided to see if he could turn that one penny into $1,000,000 worth of food for local food banks and The Penny Experiment was born. Jeffrey can't do it alone but his own inspiration is inspiring others, like me, to help him achieve his goal. There are lots of ways to help– many take only seconds and none of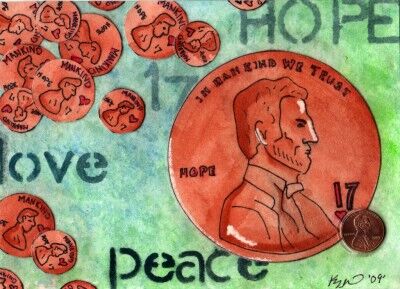 them cost a penny with the exclusion of one. Jeffery has asked artists to donate one of a kind works of art that include found money (like the penny from the sidewalk). 100% of the proceeds from the sale of these pieces are used to purchase food with coupons to donate to local food banks.
I have committed to setting aside some time when I can to scout out the deals, coupon match and shop for food bank donations. I will be blogging about each trip as well.
I had $13.50 in catalinas to use up and I almost ran out of time.  Because of my rush, I failed to take pictures of the coupons I used yet again.  Oops! Here's what I got this week:
10 boxes of Bagel Bites on sale for $1.99 (part of the CHILL promo)
2 Bags of Doritos on sale BOGO Free
I used 6 $1/1 Bagel Bite Coupons and 3 Doublers
I had help again this week as the founder of The Penny Experiment Project sent me most of  the bagel bite coupons to use for the current Albertson's CHILL promotion. I added in the 3 twice value coupons (doublers) and 2 of my own bagel bite coupons.  Since I was in a hurry and already going through the checkout, I added in the Doritos at the last minute because they were at the register and I had a little bit of credit on the catalinas left to use up.

Total Retail value of products: $35.88
Total after coupons: $1.39 plus $10 catalina towards my next purchase!
To date: $298.89 worth of food for the food bank for only $36.13 plus $10 towards my next purchase!!
I am honored to be a part of the Penny Experiment Project. If you are a coupon blogger and would like to take part, please check out this post for more information. Again, it won't cost you a penny- just your valuable time and your couponing experience to get the most food as possible for as little as possible (which you will be reimbursed for).I encourage each and every one of you to take a few seconds to spread the word about this project. Let's help feed those less fortunate than ourselves.