Jeffrey Strain was inspired by a penny he found on the sidewalk on November 24th, 2009. He pondered the questions "What is a penny really worth? What can one achieve when starting with only a penny?" He decided to see if he could turn that one penny into $1,000,000 worth of food for local food banks and The Penny Experiment was born. Jeffrey can't do it alone but his own inspiration is inspiring others, like me, to help him achieve his goal. There are lots of ways to help– many take only seconds and none of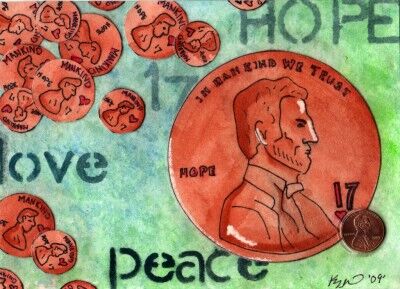 them cost a penny with the exclusion of one. Jeffery has asked artists to donate one of a kind works of art that include found money (like the penny from the sidewalk). 100% of the proceeds from the sale of these pieces are used to purchase food with coupons to donate to local food banks.
I have committed to setting aside some time when I can to scout out the deals, coupon match and shop for food bank donations. I will be blogging about each trip as well.
Here's what I got this week:
20 cans of Old Orchard frozen juice
15 boxes of Betty Crocker fruit snacks
3 cans of Manwich Sloppy Joe Sauce
2 4-packs of Dan-Active drinkable yogurt
5 4-packs of Danon Activa Yogurt
4 4-packs of Danon Danimals Yogurt
1 pack of Dan-0-nino yogurt
Total retail value: $123.10
I forgot to take a picture of the coupons I used but I had help this week.  The founder of The Penny Experiment Project sent me a packet of coupons to use for Albertson's current promotions.  I added in 3 twice value coupons and a couple of other coupons I had on hand and was able to come away with a lot of food for very little cost!  Since the promos are still running, I will show you how I got all of this food for only $12.01 plus got coupons back for $13.50 off my next purchase!
First I bought 10 Old Orchard frozen juices on sale for $.99 each and 5 boxes of Betty Crocker Fruit snacks.  The juice is part of the "Chill promo" where you purchase 10 participating items and receive a $10 catalina.  I used 2 $1/4 juice coupons:
The fruit snacks are part of another catalina promo:
Betty Crocker Fruit Snacks good til 3/21
Buy 3, get back a $1.50 catalina
Buy 4, get back a  $2.50 catalina
Buy 5 or more, get  back a $3.50 catalina
Use 2 $.50/2 printables from here, here or here.  I paid $11.90 including tax but got back catalina coupons totalling $13.50.
My second transaction I purchased five more boxes of fruit snacks, all of the yogurt items and the 3 cans of sloppy joe sauce.These items were part of another promo where you spend $25 on participating Conagra products and get a $10 catalina:
Dannon Activa, Dan Active, Light & Fit Yogurt, 4 packs $2.00
Use the $.75/1 Dan Active 4 pack from 2/7, 2/28
Use the $1/1 Activa from 1/10
$1.00/2 – Dannon Light and Fit 4 packs
Dannon Crush Cups, Collisions or Dan-O-Nino $2.00
Use the $1/1 Coolision from 2/7
Use the $1/1 Dan-o-nino from 2/7, 2/28
Use the $1/1 Crush Cup from 2/28
Manwich Sloppy Joe Sauce $1.00
$1.00/3 – Manwich products
I used a variety of coupons, 3 doublers and the catalinas I earned from the previous transaction.  I paid $1.71 plus I got back a $10 catalina and a $3.50 catalina!
For my third transaction I just repeated the first.  I paid with the $13.50 in catalinas from the previous transaction and Albertson's actually PAID me a $1.60 cash refund plus another $10 and another $3.50 catalina!
After all was said and done, I walked out with $123.10 worth of food for $12.01 out of pocket for and still have $13.50 in catalinas to spend on my next trip!
To date: $263.01 worth of food for the food bank for only $34.74 plus $13.50 towards my next purchase!!  I will be making a drop off to my local food bank sometime this week.
I am honored to be a part of the Penny Experiment Project. If you are a coupon blogger and would like to take part, please check out this post for more information. Again, it won't cost you a penny- just your valuable time and your couponing experience to get the most food as possible for as little as possible (which you will be reimbursed for).I encourage each and every one of you to take a few seconds to spread the word about this project. Let's help feed those less fortunate than ourselves.