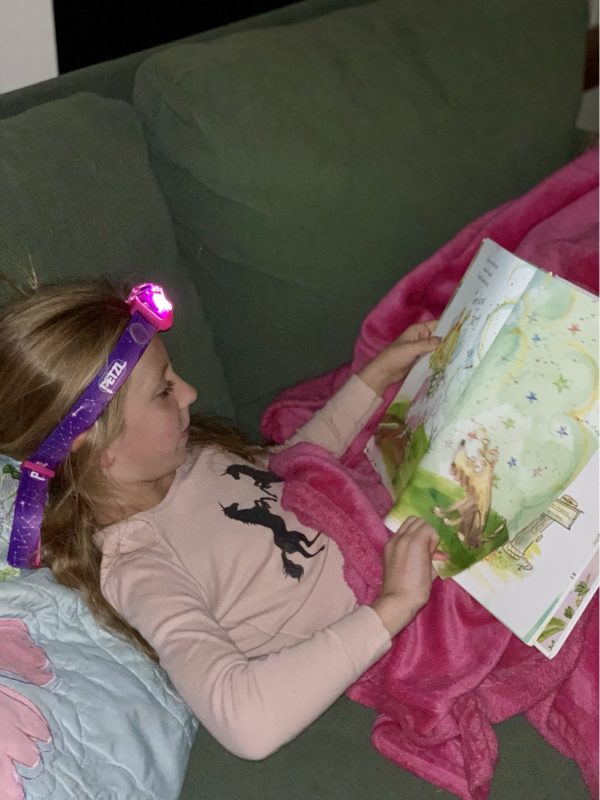 I love surprising my kids with gifts they absolutely love but never even knew they wanted.  My youngest daughter likes reading to herself in bed but hates getting up to turn off the light when she's ready to sleep.  My other two kids also read before bed but their bedrooms were designed with bed height light switches right at the bed side so they just flip the switch when they're ready to sleep.  Parker does one of three things: calls out to me to turn off her light for her, falls asleep with her light on or grumpily gets out of bed herself to turn off her light.  Thanks to the new TIKKID Petzl's headlamp, Parker can read comfortably in bed and fall peacefully asleep when she's ready.
Parker recently had a birthday.  On her birthday eve I let her open one present.  It was the Petzl Headlamp.  She squealed with delight when I told her what it was for.  I am sure it will come in handy for other things as well but it's perfect for her current needs.
The new TIKKID has a wide 20-lumen beam that offers comfortable vision while protecting young eyes.  It was designed especially for children for reading or playing inside or out! The headlamp has three lighting modes; low mode, which is ideal for reading; high mode, for everyday activities; and white blinking mode, for long-distance visibility.  It also has a glow in the dark option.
The wide headband is really comfortable and super easy to adjust.  It is releasable under tension for safety. There is a single power button on the top that is easy for kids to control.  Press once to turn it on, then press again until you get the lighting option you desire.
The Petzl headlamp takes 3 AAA batteries which are included. The battery compartment is protected for safety. The headlamp comes in two color options (pink/purple and blue/green) and retails for $24.95.  These make a fun and unique gift with so many different uses!  This product is very well made and comes highly recommended by myself and my 8 year old daughter.  You can find out more at www.petzl.com.
Complimentary products were provided for this review, however, all opinions expressed are my own.  I was not compensated in any other way. See Mommies With Cents disclosure policy for more details.
Enter to win a Petzl Headlamp by filling out the form below. Also, be sure to check out all of our other giveaways. NOTE: If you don't leave your address, I won't have a way to get your prize to you. If you need more guidance filling out this form, you can watch this video on how to enter Rafflecopter giveaways.
This giveaway is open until October 11, 2018 at 12:01 am EST to U.S residents.