This post may contain affiliate links. Mommies with Cents receives free products for review purposes and may sometimes be compensated for posts but all opinions expressed are 100% my own. See Mommies With Cents disclosure policy for more details.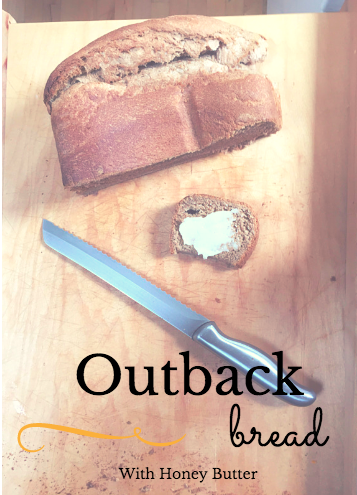 Outback Steakhouse is mine and my hubby's favorite place to eat out at without the kids.  We love everything from the warm delicious bread they bring you to snack on to the bacon cheese fries and of course, the steak.  When I came across a recipe for a copy cat of the bread I had high hopes for enjoying it at home whenever our little hearts desired.  I was not disappointed!  It came out fantastic and with the help of a bread maker, it couldn't get much easier!
The recipe came from Momcaster:
1/2 cup water
1/2 cup brewed coffee
1/2 cup evaporated milk warmed to 100 degrees
2 tablespoons butter, softened
1/2 cup honey
2 1/4 cups bread flour
2 1/4 cups wheat flour
1 tablespoon cocoa
1 tablespoon sugar
1 tablespoon molasses
1 teaspoon salt
2 1/4 teaspoons bread machine yeast
I use a Panasonic bread machine.  It hasn't ruined a loaf yet!  In fact, I am amazed at every perfect loaf it turns out.  I really liked this Pepperoni Cheese Bread recipe too.  The bread maker's directions call for wet ingredients first, the dry.  Just dump them all in except for the yeast which goes in the yeast dispenser on top of the machine.  Use the settings for sweet bread then find something to occupy your time.  It's going to feel like forever until you get a taste of that sweet bread but trust me, it will be worth it!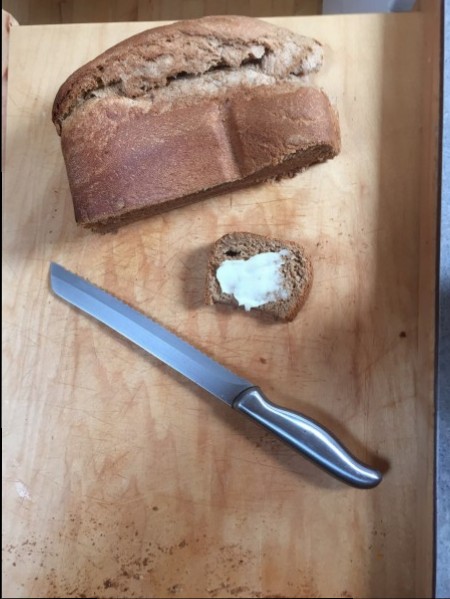 This bread is SO good warm with some honey butter.  I just add some honey to a cube of butter and whip it together.  How much honey will depend on how you like it!  Just keep adding until it tastes good to you!  Be prepared to make a second loaf because this one will get gobbled up in record time!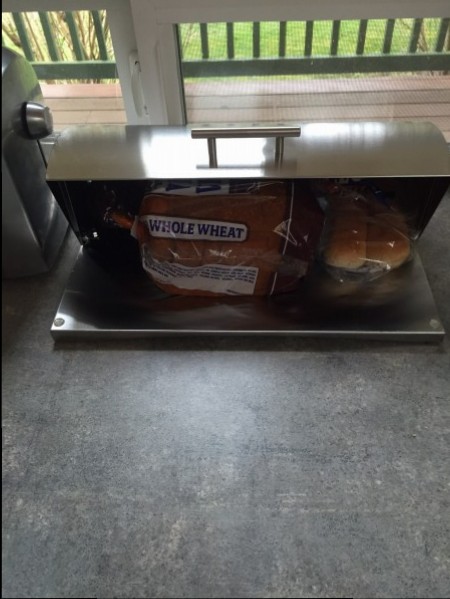 I used to keep bread in our pantry but then I started leaving it out on the counter because it gets used so much and I'm lazy.  If anyone was coming over, I'd put it away so the counter wouldn't look cluttered but now I have a bread box and I love it!  The Francois et Mimi Roll-Top Stainless Steel Bread Box matches my toaster and looks great on the counter.  It's large enough for a full loaf of bread plus some!  The lid rolls very smoothly so it's easy to open and close to have access to your bread or hide it away quickly.  Don't tell anyone but I actually stash treats in behind the bread sometimes.  The kids will never look there so I don't have to share!
I love the stainless steel look of the breadbox.  It goes really nicely with everything in our kitchen.  It's perfect for holding our bread, bagels, english muffins and more, storing them neatly out of sight right where we need them!
If you don't have a breadbox, I highly suggest having one!  They are really convenient while keeping things classy. AND, it's only $19.95!